Summary
If enabled for your brand, all users (associates, store managers, and admins) have the ability to see if their incoming appointment customer has recently looked at any items via the e-commerce webpages, making it easier for users to understand a customer's interests and assist them upon their arrival.
See the full article explaining the functionality of this feature and how to implement it by going here.
---
View a Customer's Browsing History
Once a customer has booked an appointment, the Brickwork admin tracks any browsing data that this customer has done prior to their arrival. That data is then displayed in the form of a date (the date a user browsed the item) accompanied by a product image, name, and hyperlink, for the associate to view via the Appointment Details section ahead of the scheduled appointment time.
To view this information, begin by selecting the store you wish to view the appointment data at by going to the Locations menu and selecting the store, then selecting "Appointment Schedule".

From here, select the Appointment from which you want to view information. In the pop-up modal, select "View Appointment Details". [Alternatively, if you are in the Appointment Queue, you can also select "View Appointment Details" from here.]
Navigate to the tab called "Customer Browsing History".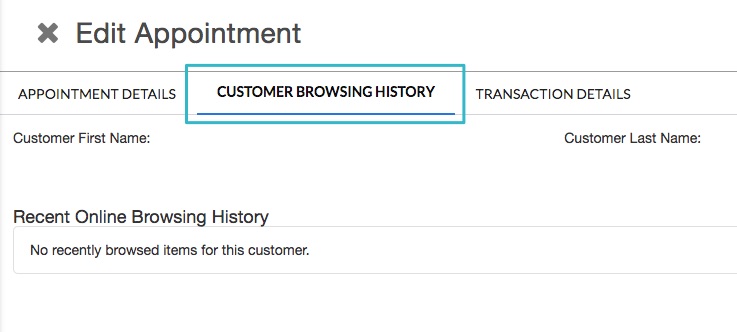 Here, you will see a display of the most recent products a user has looked at (if available).